If your child is nearsighted there's finally something you can do besides just getting stronger glasses every year.
Corneal Reshaping Therapy
Corneal Reshaping Therapy (CRT) is a non-surgical vision correction alternative. CRT is a therapeutic process, which reshapes (flattens) the cornea, the clear front surface of the eye, using reverse geometry contact lenses. This flattening of the cornea reduces nearsightedness. The results are not permanent but for most patients it lasts all day. The CRT contact lenses need to be worn as a "retainer" for limited periods of time (they are usually worn while sleeping) to maintain the effect. The limited wearing of the therapeutic lenses allows CRT patients to spend the majority of their daily lives without dependence on glasses or contact lenses.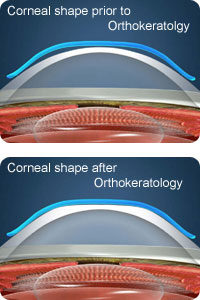 Following removal of the contact lenses visual acuity improves beyond pre treatment levels and will often improve vision to normal 20/20 eyesight without the use of glasses. The vast majority of cases (over 95%) achieve at least 20/25 or better visual acuity without glasses. This criterion allows for driving without the restriction of corrective lenses.
The corneal reshaping contact lenses need to be worn as a "retainer" for limited periods of time in order to maintain the therapeutic effect. The results of CRT will vary to some degree from patient to patient, but are typically related to the degree of refractive error (i.e. prescription levels). The vast majority of properly selected patients can sleep in the lenses and have good vision throughout the day. Significant improvement of vision usually starts within one to two days.
Although results are typically excellent for appropriate candidates, results cannot be guaranteed due to individual cornea and eye response variability. Our goal for the patient's use of CRT lenses for retainer wear is to wear them as infrequently as possible. We determine the minimum required wearing schedule to achieve the desired therapeutic effect. We take every effort to achieve maximum therapeutic effect for each and every patient.
The duration of effect and the period of time between contact lens wear that retains clear uncorrected vision is different for each patient. Typically our patients experience at least 24 hours of clear vision without daytime glasses or contact lenses following overnight use of their corneal reshaping lenses. Some patients enjoy two and occasionally three days of clear uncorrected vision!  We will discuss your individual case with you. The corneal reshaping lenses, once stable in parameters, will have a normal life expectancy of one year. CRT lenses will need to be replaced annually and may be modified in parameters based on the results of a comprehensive eye health and CRT examination.
An annual comprehensive eye health and CRT examination is required to ensure ongoing optimal ocular health and the stability of the therapeutic effect of CRT.
BEST PATIENT CANDIDATE:
Moderate myopia (up to -5 D) and/or astigmatism (up to 1.5 D)
Normal and healthy eyes
Good hygiene
Desire for great vision without glasses and conventional contact lenses
Almost any age(even 5 year olds!), compliant and motivated
Has a good understanding of expectations
Imagine having crisp, clear vision all day long without glasses, daytime contact lenses or surgery.
Corneal Reshaping FAQ
Q. What is Corneal Reshaping (CRT)?
Corneal Reshaping Treatment (CRT) a non-surgical process which reshapes the cornea of the eye utilizing custom designed reverse geometry contact lenses thereby reducing the dependence upon eyewear.
Q. Corneal Reshaping Treatment sounds a lot like Orthokeratology. Are they the same?
CRT is similar to Orthokeratology or Ortho-K, but CRT offers significant improvements over the older procedure. Technology has really changed things. Many of the principles or CRT date back to 1962, but the new technology used in CRT is from the computer age. First and foremost the lens materials available today have revolutionized CRT. The new materials far exceed even soft contact lenses for providing the eye with the oxygen necessary for healthy vision. Also, the instrumentation used to measure the cornea also plays a significant role in fitting the lenses. A corneal topographer is used to map the topography of the cornea. Monticello Eye Center  utilizes the Oculus for the evaluation of the corneal parameters that we use to design corneal reshaping lenses. The lens materials, fitting technology as well as years of research combine to make CRT  the most advanced way for patients to experience clear vision, without full time contact lens wear, glasses or surgery.
Q. How safe is CRT?
Many people have been able to eliminate their dependence upon their glasses and standard contacts with no adverse effects or eye damage and without the risk of surgery. As with all contact lenses, care must be taken to maintain eye health.
Q. Who can benefit from CRT?
CRT works best on nearsightedness and astigmatism, but lens designs for farsightedness are also being developed. Not everyone meets the criteria for CRT. Our doctors will be happy to evaluate you and your prescription and let you know if you are a good candidate for CRT.
Q. A child's vision changes. Is CRT appropriate for children and teenagers?
Yes, Absolutely, CRT is used to retard the progression of nearsightedness and other refractive errors, and leave children and teenagers with a brighter future. There was a study done in 2007 called the SMART study that showed a significant difference in the rates of increase in nearsightedness between the study group (wearing corneal reshaping lenses) and the control group (wearing soft contact lenses for daytime use). The soft lens control group has increased prescription significantly more than the corneal reshaping test group. Since completion of the SMART Study there have been multiple other controlled clinical studies that have confirmed the ability of CRT to control myopia progression. There are some other methods that we utilize to control myopia progression, please discuss options with your doctor.
Q. Is CRT Permanent?
After treatment and maximum results are achieved, retainer lenses are worn to stabilize the new corneal shape. Failure to wear the retainer lens on an ongoing basis will result in the return to the pre-existing prescription. Retainers may be prescribed during day or night.